Background
Profhand™, a profound pedal wheelchair, is specially designed for individuals experiencing walking disabilities and paralysis on one side of the body which may result from stroke, spinal injuries, cerebral palsy, hip joint or lower back pain due to degenerative diseases, osteoarthritis – knee deformity, Parkinson's disease, chronic obstructive pulmonary disease, obstructive atherosclerosis, diabetes and so on.
Numerous Researches
Combining the state of the art technology, the pedal wheelchair is developed by Professor Yasunobu Handa and his research team from Tohoku University Graduate School of Medicine, Japan. In applying the Neuromodulation Technique (NMT) with enormous efforts and time dedicated, the team has undergone numerous researches and testing throughout the product development process which yields encouraging results. The pedal wheelchair is proven to be a highly effective and reliable partner for user mobility and rehabilitation since its launch in 2009.
Magical Moments
Together with physicians, therapists, caregivers and families in the hospitals, rehab centers and even at homes, many patients with walking disabilities witness the magical moments on their first trials. Thanks to the meticulous design of Profhand™ pedal wheelchair, they are able to move around by pedaling on their own feet. In this way, the rehabilitation progress yields unknowingly since significant leg muscles, eyes and brain training has been taken place while the users enjoying their rides. Profhand also helps maintain users' vitality through working out the lightweight exercises safely and comfortably. Most important of all, the sensational and psychological benefits fostered between users and families are beyond words.
Testimonials
Users of the wheelchair share their testimonials with a common wish to spread this enlightening news around the world. Today, you may also be able to make this remarkable innovation available in your market and benefit many more peoples of similar cases. For more details, please contact Toyo Medtech Company Limited.
Toyo Medtech Company Limited
Leading supplier of rehabilitation, mobility and assistive patient products
With an aspiration to promote quality living for those hospitalized and ambulatory patients, Toyo Medtech Company Limited strives to supply the selected rehabilitation, mobility and assistive patient products to the markets around the world. Profhand pedal wheelchair signifies the global collaboration among TESS, HHIC and Toyo Medtech. Assuming the worldwide sales and marketing role, Toyo Medtech leverages on her great client support capability to serve the markets. Now, medical and healthcare professionals, families and caregivers can better assist the patients and individuals whom they are taking care of to rebuild strength and confidence, and more important to pave a pathway for resuming their normal lives again.
OUR VISION
To be the recognized supplier of choice in providing innovative, high quality rehabilitation, mobility and assistive patient products and services which can help individuals with disabilities promote betterment of living quality,independency, and reintegration to the society.
OUR COMMITMENTS
To identify market trends for healthcare and rehabilitation;
To collaborate with organizations in pursuit of new treatment techniques and technological advancements for the user's benefits;
To bring customers the best value of the products;
To offer the best customer service and support.
About Neuromodulation1
Therapeutic alteration
Neuromodulation encompasses a variable definition in both its entity and activity. It can include treatments that involve the stimulation of various nerves in the central nervous system, peripheral nervous system, autonomic nervous system, or deep cell nuclei of the brain that lead to the 'modulation' of its activity. By definition, neuromodulation is a therapeutic alteration of activity either through stimulation or medication, both of which are introduced by implanted devices. However, Profhand pedal wheelchair based on this technology does not rely on any surgery and medication; it optimizes the use of the body in the process of rehabilitation.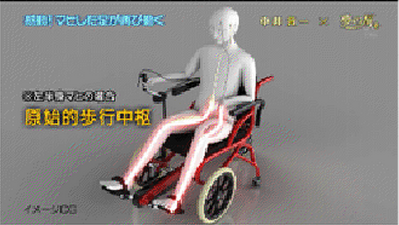 Central Pattern Generator
The main feature of Profhand pedal wheelchair is that it enables users to move their weak or even paralyzed legs. According to Professor Yasunobu Handa of Tohoku University, Japan, this is caused by the response actually appears in the Central Pattern Generator (CPG)2 within the spinal cord producing rhythmic movements. In case of an individual with either side paralyzed who pedals Profhand wheelchair, the Central Pattern Generator (CPG) in the spinal cord generates the signals of walking instruction to the disabled leg by getting reflex signal from the normal leg. Disabled leg thus moves like as normal without any consciousness from the brain.
1 http://www.neuromodulation.org
2 Neural networks in the spinal cord, referred to as "central pattern generators" (CPGs), are capable of producing rhythmic movements, such as swimming, walking, and hopping, even when isolated from the brain and sensory inputs. source